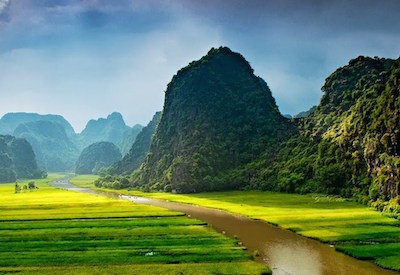 Ninh Binh is located south of the Northern Delta, between the Red and Ma Rivers. The population is made up of 23 ethnic communities, among which the Kinh account for more than 98%. The rest of the population consists of the Muong, Tay, Nung, Tai, Hoa, and Dao ethnic groups.
One of the most well known sites of Ninh Binh are Hoa Lu Ancient Capital and Tam Coc – Bich Dong. – Hoa Lu ancient capital: The mountains and sea combined to make Hoa Lu's picturesque landscape. Hoa Lu lays in a flat valley surrounded by the Trang An lime stone mountains, which form a natural wall protecting the old citadel. The city's northwest is bordered by the Hoang Long River, the tributaries of which run through the capital, cooling the weather within the city and serving as convenient waterways.
The Royal Court was built in an area of 150 hectares in the eastern part of the capital while the western part served as a site to educate and protect children.
As the capital of the country for 41 years, Hoa Lu has many palaces, pagodas, tombs and pavilions that were built by different dynasties. One of the most popular pieces of architecture is the Bao Thien Tue Palace, which was plated with gold and silver. There are also two temples built in the 11th century dedicated to King Dinh Tien Hoang and his successor Le Dai Hanh.
Coming to Hoa Lu visitors can attend traditional cultural festivals here, and the most important and largest of them is the Truong Yen Festival, which is held on the 10th day of the third lunar month. The festival is in memory of the Kings of the Dinh and Le dynasties. The festival lasts for three days with many traditional games and martial arts, reflecting local residents' legends.
Tam Coc Bich Dong is being known as 'Ha Long Bay on land'. With natural and simple beauty that mother nature gave the country like caves and waterfalls, man will be sunk in nature with many historical monuments, culture which are well-known such as: Thai Vi temple, Bich Dong pagoda, Tam Coc cave, Tien cave, Linh Coc pagoda…
Coming to Tam Coc – Bich Dong travel area, that means coming to famous tourist spot community of Ninh Binh, the beauty of nature and spirit will be a boundless source of inspiration to come in for an endless pleasure in this place.
There are also other natural, historical – cultural sites such as Truong Han Sieu temple, Phuc Long Pagoda, Dau Long Pagoda, Dong Ben Temple, Hiem temple, Ninh Binh Cathedral Phat Diem Stone Cathedral and Cuc Phuong National Park… All these things make up Ninh Binh a destination for tourists all year round.