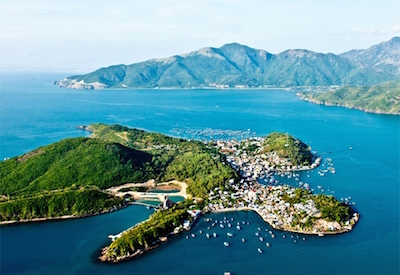 The capital of Khanh Hoa Province, Nha Trang sees a heavy local and international tourist influx, especially in the summer. The beach and its outlying islands have sprouted some fine new resorts. The surf isn't bad (for frolic, not for surfing) along the vast crescent-shaped beach in Nha Trang's central city, and the bright-blue vista is dotted by more than 20 surrounding islands. There are many good high-end hotels and resorts to choose from, and the high-rises in the town center hearken almost to a large beach town in Florida. Good budget options abound, too. Dining is all about fresh seafood.
Nha Trang is a very popular vacation spot for Vietnamese. In the summer months, the town is chockablock with tourists and young kids out "cruisin' the strip" on the main seaside avenue. The beaches of Nha Trang are a great place to spend 2 or 3 days playing in the surf, snorkelling and diving, or taking a cruise to the nearby islands. And Nha Trang's nightlife is thumping.
Centering around the busy backpacker area along Biet Thu Street, the bars hop until late. In fact, the party often starts out on the boats by day and then continues at the bars until late. Prepare to shake thy booty at the beach.
Culturally, the Pasteur Institute offers a glimpse into the life and work of one of Vietnam's most famous expats. Both the Long Son Pagoda and the well-preserved Po Nagar Cham Temple are interesting sights.
In the winter, the surf can be quite rough, making swimming and watersports less than desirable, but daylong boat trips are always a go. Nha Trang is a good place for diving to soft coral sites brimming with reef fish, and a number of very professional dive outfitters can take you there . Also note the newly developed Whale Island, just a few hours north, as well as new developments near the airport.