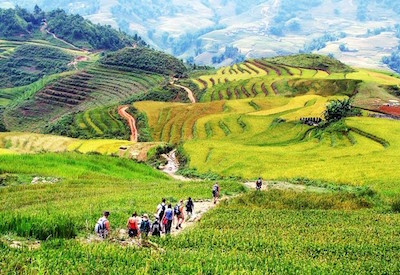 Mai Chau is approximately 150 km from Hanoi along winding mountain roads. This scenic province is home to some of Vietnam's ethnic minority groups, including the White Thai, Black H'mong, Red Dao and Muong.
From the top of Cun Mountain, one can admire the superb panorama of Mai Chau surrounded by a green valley and stilt houses. Stilt houses border both sides of the roads. The houses are quite large with palm leaf roofs and polished bamboo-slat floors. The kitchen is located in the center of the house; the cooking as well as the making of the colorful "tho cam", the material used by Thai minority to make their clothes, takes place in the kitchen. The windows are large and decorated with patterns. Each house also has a pond to breed fish.
The Sunday market brings a lot of people into town. People from different minorities living in the mountains come to Mai Chau market to sell their specific products: honey, bananas, corn, and tho cam made by skilled Thai women. The Sunday market is also an occasion to enjoy traditional Thai dishes and to participate in traditional dances.