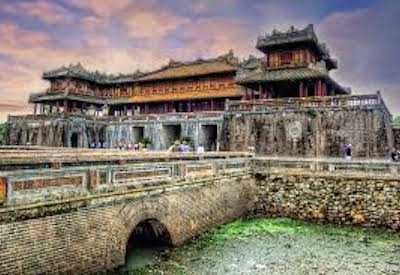 Hue is one of the most popular destinations for visitors to Vietnam. Straddling the Perfume River, this mysterious city is a historian's dream comes true, with numerous 19th century ruins, royal tombs and an excellent museum.
The Imperial City of Hue was the capital of Vietnam during the reign of the Nguyen dynasty, the last dynasty in Vietnam. Even today, the Vietnamese regard Hue with awe and respect. Hue also has the distinction of being one of the rainiest cities in Vietnam, receiving more than 120 inches each year.
Hue is dominated by The Citadel, which is a walled fort, constructed during the early 19th century. Within these walls lies the forbidden Purple City, former home of the royal family. The Citadel was also the scene of brutal fighting and staggering casualties during the 1968 Tet Offensive, when the North Vietnamese held the fort for 26 days before being driven out by American forces. The damage inflicted to the architecture is still being repaired and the Citadel may never be fully restored. In somewhat better shape are the various royal tombs of the Nguyen emperors, which can easily be reached by boat, car or motorbike. The historical museum is one of the best in the country.
The Vietnamese regard Hue as the pinnacle of Vietnamese fashion, language and cuisine. The women of Hue, wearing the traditional ao dai and non bai tho, are reputed to be the most beautiful in all of Vietnam. The Hue accent is regarded as the most distinct and pleasing to the ear. The food, including local dishes such as banh khoai, is said to be the tastiest.