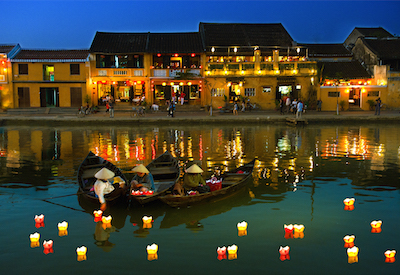 The ancient town of Hoi An, 30 km south of Danang, lies on the banks of the Thu Bon River. Occupied by early western traders, Hoi An was one of the major trading centers of Southeast Asia in the 16th century.
Hoi An has a distinct Chinese atmosphere with low, tile-roofed houses and narrow streets; the original structure of some of these streets still remains almost intact. All the houses were made of rare wood, decorated with lacquered boards and panels engraved with Chinese characters. Pillars were also carved with ornamental designs.
Hoi An is full of shops selling artwork, from lifelike memorial family portraits, to stylized images of Hoi An houses and streets. Next door to the art shops are places selling souvenir statues, ceramic plates, and 'antique' bowls. At the market place beside the river, you can pick up almost anything you want. Tourists are often being lured into the markets to buy silk and to have quality garments tailor made. You can have anything from dresses and trousers to shirts and hats made for a cheap price.
Tourists can visit the relics of the Sa Huynh and Cham cultures. They can also enjoy the beautiful scenery of the romantic Hoi An River, Cua Dai Beach, and Cham Island.
Over the last few years, Hoi An has become a very popular tourist destination in Vietnam.