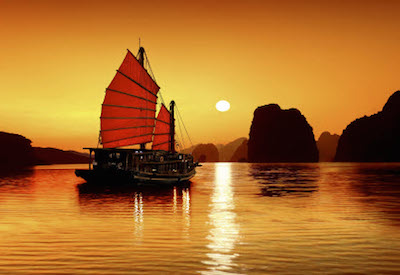 Ha Long Bay has an area of around 1,553 km2, including 1,960 islets, most of which are limestone. The core of the bay has an area of 334 km2 with a high density of 775 islets. The limestone in this bay has gone through 500 million years of formation in different conditions and environments. The evolution of the karst in this bay has taken 20 million years under the impact of the tropical wet climate. The geo-diversity of the environment in the area has created biodiversity, including a tropical evergreen biosystem, oceanic and sea shore biosystem. Ha Long Bay is home to 14 endemic floral species and 60 endemic faunal species.
The regions immediately surrounding the area were classified as a national site by the Ministry of Culture and Information in 1962.
This unique UNESCO World Heritage Site is a popular place for tourists but it is good to know that large parts of Ha Long Bay are officially protected from development. The islands vary greatly in size and shape as well as structure. Visitors should allow a few days to explore this magical bay as its attractions are extremely numerous. Few of them, which are worth mentioning, are Dau Be Island, Dau Go Island, Hang Sung Sot Cave, Pelician Cave at Bo Hon Island and Virgin Cave.