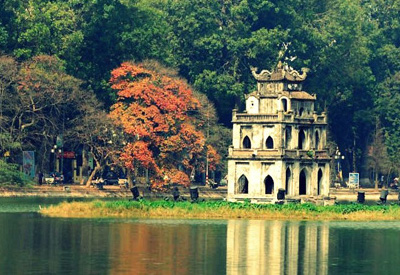 Hanoi ranks among the world's most attractive and interesting cities. Originally named Thang Long or "City of the Ascending Dragon," the city was first the capital of Vietnam in A.D. 1010 and has had many names until its current incarnation.
The name Hanoi, in fact, means "bend in the river" and denotes the city's strategic location along the vital waterway. Historians liken the life-giving Red River — its banks crowded with green rice paddies and farms — to the Tigris and Euphrates rivers, a cradle of civilization. The city boasts more than 1,000 years of history, and that of the past few hundred years is marvellously preserved.
Not only being famous by its history, Hanoi also being known of its cultural and natural beauty. The city's placid air gives it a gracious, almost regal flavour. Hanoi is dotted with dozens of lakes – small and large – around which you can usually find a cafe, a pagoda or two, and absorbing vignettes of street life.
Among Hanoi's sightseeing highlights are the Ho Chi Minh Mausoleum and Museum; the National Art Museum; the grisly Hoa Lo Prison (also known as the infamous Hanoi Hilton); central Hoan Kiem Lake, where Hanoians enjoy brisk morning walks or tai chi in a tranquil city landmark that symbolizes the city's mythical origins; and the Old Quarter, whose narrow winding streets are named after the individual trades practiced here since the 15th century. Hanoi is Vietnam's cultural center, and the galleries, puppetry, music, and dance performances are worth staying at least a few days to take in.